In Ohio primary, campaign hinges on NAFTA
In a state that has lost 225,000 jobs since 2001, voters blame economic woes on free trade and globalization.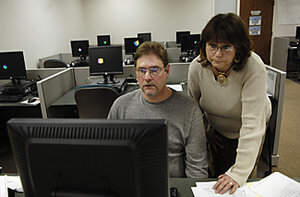 Andy Nelson - staff
In Ohio, it feels like 1993 again.
The coming Democratic presidential vote here has revived a debate over the merits of globalization and free trade – as epitomized by the long-reviled North American Free Trade Agreement.
In Ohio, which has lost nearly 225,000 manufacturing jobs since 2001, NAFTA is an easy target. For many working-class Ohioans – and the voters Sens. Barack Obama and Hillary Rodham Clinton hope to win in Tuesday's critical primary – it stands as a symbol for much that troubles their state. Against that backdrop, say experts, it's not surprising it's become a political piñata.
"It's nice to blame the bogeyman, rather than the failed business strategies of Ford, GM, or Chrysler," says Ned Hill, an economist at Cleveland State University. "And middle-class anxiety is a real issue." The bickering isn't so much over the candidates' current positions on NAFTA – both are eager to tell Ohioans just how much they dislike the pact and how quickly they would renegotiate a better deal – but how consistent they've been in that stance in the past.
Senator Obama never loses an opportunity to remind voters that Senator Clinton's husband was the one who pushed NAFTA through, or of certain pro-NAFTA comments she's made in the past decade. Senator Clinton, meanwhile, cites a 2004 speech to Illinois farmers in which Obama also praised trade agreements.
---