In red-state Texas, new signs of rising Democratic tide
The drawn-out fight for a Democratic presidential nominee is driving left-leaning Texans into the open, infusing them with a sense of relevance for the first time in a generation.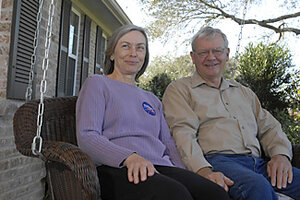 Mark Thomson
For most of his life Ken Stubbe has voted for Democrats for president. But as a resident of a deeply Republican suburb of Houston, in the heart of Bush country, the retired oil and gas project manager kept quiet.
He didn't talk politics with neighbors or friends. He didn't sink presidential campaign signs in his lawn. He sometimes even voted in Republican primaries, often because no Democrats were running in local races and, well, why waste his vote?
"I just kind of accepted that living here in Texas, that's the way it was," he says.
But the drawn-out fight for the Democratic presidential nomination is driving left-leaning Texans like Mr. Stubbe out of the closet, infusing them with a sense of relevance for the first time in a generation. Ahead of the Texas primary Tuesday, they are wearing buttons, putting up signs, and volunteering, even in GOP redoubts like this well-to-do city southwest of Houston.
Most significantly, as party activists see it, Texas Democrats are emerging from the shadows to vote. Democratic turnout at early-voting stations statewide is nearly four times 2004 levels and is exceeding Republican turnout even in the conservative Dallas and Houston suburbs.
---
Follow Stories Like This
Get the Monitor stories you care about delivered to your inbox.