Clinton victories in Texas and Ohio give McCain time to craft his message
While the Democrats battle, McCain can see which attacks are effective.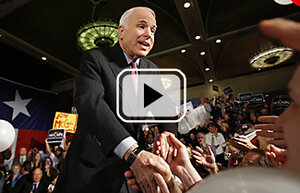 Brian Snyder/Reuters
Hillary Rodham Clinton has given John McCain a big gift. By winning three of four primaries Tuesday, the New York senator has regained her footing and guaranteed that the Democratic presidential nomination battle will go on for weeks if not months.
Now Senator McCain, the presumed GOP nominee, can work to unify his party, raise money, and sharpen his message against the Democrats. As Senator Clinton and Barack Obama go after each other, McCain and his campaign will be taking careful note of which attacks work best.
"He'll listen to Clinton criticizing Obama and Obama criticizing Clinton, and he'll say that he agrees with both of them," says Darrell West, a political scientist at Brown University in Providence, R.I. The drawn-out nomination fight is "very damaging for the Democrats."
---