For Clinton and Obama, next six weeks are critical
By the next primary, April 22, the way to count Florida and Michigan may be settled.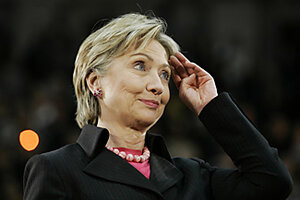 CAROLYN KASTER/AP
The next six weeks of the election calendar are a desert. With no contests until Pennsylvania's on April 22 – a lifetime in this jam-packed political season – the Democratic presidential candidates will have no victories to crow about or losses to massage.
But this pause, experts say, may shape up as one of the most important stretches of the race.
In the absence of reality checks, Sens. Hillary Rodham Clinton and Barack Obama are likely to push even harder to mold perceptions of a race that refuses to be pinned down on delegate counts alone. Jockeying for "front-runner" status got under way with a jolt this week with Mrs. Clinton's suggestion that Mr. Obama would make a good running mate, and Obama's riposte: "But I'm in first place right now."
With wins in Wyoming Saturday and Mississippi Tuesday, Obama made up most of the delegate losses from last week's defeats in Ohio, Rhode Island, and Texas. Whether he has regained the upper hand or is simply running in place is a subject each side will try to spin to its advantage over the next 1-1/2 months.
The Clinton campaign notes that she has won most of the big states, whose large electoral college votes will be critical in November. The Obama campaign counters that he has won more states, including likely battlegrounds in the general election, and is ahead in both the popular vote and delegate count.
---