Democrats' primary battle takes toll, but long view looks rosy
Clinton's positive rating has dropped, while Obama's image as a uniter has taken a hit.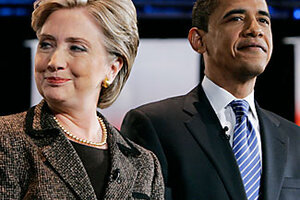 Carolyn Kaster/AP/File
In the short run, the Democratic Party is paying a high price for its fiercely contested presidential nomination race.
Instead of taking aim at presumptive Republican nominee John McCain, Democrats Hillary Rodham Clinton and Barack Obama have trained their sights mostly on each other. Calls for Senator Clinton to drop out of the race have sown resentment among her supporters, while Senator Obama still faces questions over his affiliation with a preacher now famous for incendiary remarks.
Both Clinton and Obama are taking a hit in their poll numbers. Clinton, fresh from the embarrassing revelation that she had misremembered landing under sniper fire on a trip to Bosnia in 1996, is now viewed positively by only 37 percent of voters, according to the latest NBC/Wall Street Journal poll. Obama's positive rating has held mostly steady – now 49 percent in the same poll – but following the flap over his former pastor, his image as a uniter has declined. A CBS poll shows 52 percent of voters believe Obama would unite the country, down from 67 percent last month.
---
Follow Stories Like This
Get the Monitor stories you care about delivered to your inbox.