Arizona considers a guest worker program of its own
It is fast tracking bills that would allow the state to admit temporary workers from Mexico.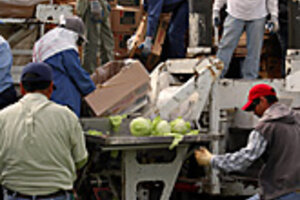 Melanie Stetson Freeman – staff/file
The state already at the cutting edge of immigration reform seems poised to undertake yet another experiment: a guest worker program created and administered by a state rather than by the federal government.
The Arizona legislature is expected on Monday to fast track bills to create a temporary worker program in the state. Even with the backing of top lawmakers, the bills face big hurdles, including sign-off from the feds. But if approved, they would streamline the process for Arizona employers to hire temporary workers from Mexico – and would serve as a model for national reform, say supporters.
At the same time, Arizona is pursuing a separate path to try to ensure that employers here, mainly in agriculture, have enough workers to bring in the crops. Gov. Janet Napolitano (D) is proposing that Arizona serve as a pilot for testing changes – some proposed by states bordering Mexico and others by US Labor Secretary Elaine Chao – to the existing federal program for granting visas to farm laborers from abroad.
Arizona already has the toughest employer sanctions law on the books – a possible reason, some experts say, employers are finding it more difficult to find an adequate number of workers now. Others, though, say that worker shortages here are chronic and that the real problem is lack of comprehensive immigration reform at the federal level.
Other states register similar complaints.
"We've heard from lawmakers around the country who are concerned" about flaws in the existing visa program for farm workers, says Sheri Steisel, an immigration policy expert at the National Conference of State Legislatures in Washington. "Other states are going to watch this Arizona effort."
---