From mistakes, Clinton has learned, adjusted
She stresses her experience, especially as first lady, as her chief qualification to be president. Her career includes both accomplishments and missteps.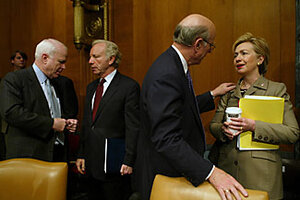 Ron Edmonds/AP/File
Sen. Lindsey Graham, a conservative Republican from South Carolina and longtime backer of John McCain, has called Hillary Rodham Clinton "a smart, prepared, serious senator" with an ability to "build unusual political alliances on a variety of issues."
Former Sen. Rick Santorum (R) of Pennsylvania, another conservative who collaborated with Senator Clinton on legislation, calls her "much more of a uniter" in the Senate than her rival for the Democratic nomination, Sen. Barack Obama of Illinois.
Senator McCain himself, the presumptive GOP nominee, gets along famously with Clinton. Clinton's husband, the former president, likes to joke that if they're the nominees, the campaign would be so civilized "they'd put the voters to sleep."
Whether Clinton will go head to head against McCain in November remains an open question, as she seeks to overtake Senator Obama, the Democratic frontrunner. But she and her surrogates persist in touting her experience as her top qualification for the presidency.
---