'Other youth vote' is harder to mobilize
Young people with no college experience may be pivotal in Pennsylvania's primary on Tuesday, but will they turn out?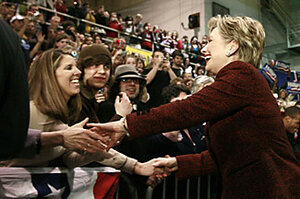 Charles Dharapak/AP
Twenty-year-old Mike Santini, a diesel engine mechanic from Philadelphia, won't be voting in the state's April 22 primary. Like most young voters, the economy is a big concern for Mr. Santini – especially now that his hours at work are being cut – but he doesn't feel engaged enough to cast a ballot.
Even as young people have flocked to the polls this presidential primary season, one subset of the youth vote remains largely absentee: those ages 18 to 24 who, like Santini, have never been to college.
Here in Pennsylvania, where Sen. Hillary Rodham Clinton needs to beat Sen. Barack Obama decisively to keep her presidential hopes alive, turnout will be key – including that of this "other youth vote." When it comes to young voters, college students usually get most of the campaigns' attention, but here in Pennsylvania young people with no college experience slightly outnumber college students, data show.
That has both the Clinton and the Obama camps strategizing to reach the Keystone State's young noncollege voters. Efforts include sending text-message reminders about registration and poll dates (an approach found to boost voter participation by more than 4 percent, according to a 2006 study by the New Voters Project, a nonpartisan group working to engage young voters). The campaigns are also using social-networking platforms such as Facebook and MySpace and seeking out public spaces common to young people, regardless of their education levels, such as shopping malls and bars.
---