Self-funded candidate rule brings campaign finance to court
A part of the McCain-Feingold reform law is being contested on behalf of wealthy candidates running for Congress.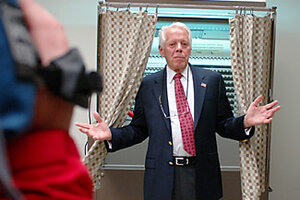 Don Heupel/AP/File
– The US Supreme Court is set to consider the constitutionality of a provision of the 2002 McCain-Feingold campaign-finance law designed to "level the playing field" between candidates spending their own money to win political office and candidates relying primarily on contributions from others.
In oral argument Tuesday, the high court will examine whether the so-called "millionaires' amendment" violates the free-speech and equal-protection rights of self-funded candidates trying to win a seat in Congress.
The amendment applies only to candidates for the US Senate and House of Representatives. Different rules govern presidential campaigns.
The measure, also known as Section 319 of the McCain-Feingold law, requires candidates who are self-financing their campaigns to abide by stringent finance reporting requirements that don't apply to other candidates. In addition, once a candidate's personal spending in a House race crosses a $350,000 threshold, contribution limits are relaxed for all other candidates in the same race.
The other candidates may then accept three times the usual $2,300 limit from individual contributors and receive unlimited coordinated expenditures from political parties. The self-financing candidate, meanwhile, must continue to abide by the lower contribution limits.
Section 319 is designed to undercut the advantages of using personal wealth to wage a political campaign and to prevent wealthy candidates from monopolizing a race.
---