He served time; can he serve on the Cleveland city council?
John A. Boyd feels his rehabilitation makes him a model of hope for those struggling as he did.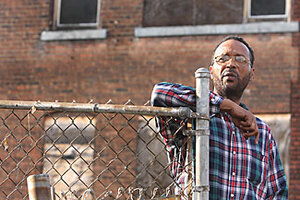 Cleveland's Ward 6 encompasses the sprawling campus of the world-renowned Cleveland Clinic, and the cultural riches of the Cleveland Play House, Museum of Contemporary Art, Karamu House, and Little Italy. But it is also one of the city's poorest areas with boarded up homes and businesses amid storefront churches and convenience stores, a striking canvas of today's economic woes.
Many Ward 6 residents have been touched by the prison system – including John Boyd, who has spent half of his adult life incarcerated for murder, forgery, theft, and drug trafficking.
He's not so different from many others in his neighborhood, except that he believes his life is a testimony to rehabilitation.
"It's never too late to be what you might've been," says the tall, calm, social worker. He's so convinced of his ability to change people's perceptions that he's hoping to be elected the ward's city councilman in the April 22 special election.
Boyd's story is one of redemption, but not the easy kind that washes everyone clean on a Sunday morning. It's more complex, playing on society's deepest fears about the true nature of forgiveness. As a result, his hope for a future of public service is held hostage by community unease over his past.
Talk shows and bloggers are vociferously critical, saying it's a big stretch for a convicted murderer to win a council seat that pays $70,000 per year. Others say that if residents vote for him, they deserve what they get.
But Boyd wants people to see him as a rehabilitated man, someone worthy of a second chance, of public service.
Whether a convicted felon can hold office isn't clear, but in that debate, Ohio's attorney general has indicated that the law is vague in addressing a convicted felon holding office.
---