Obama, Clinton intensify pursuit of white working class
His big lead in North Carolina slips heading into May 6 primary; exodus of whites cited.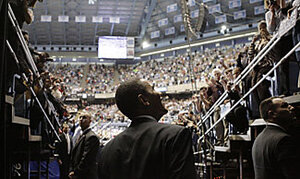 AP
Benny McIntyre represents Hillary Rodham Clinton's strength and Barack Obama's challenge here in the Tar Heel State.
Sporting a Democratic donkey on his baseball cap and wearing wraparound sunglasses, this white, retired factory worker came to the train depot in Salisbury, N.C., this week to show support for Senator Clinton. As for Senator Obama, Mr. McIntyre says he's got "nothing against him, he's a good man." But if Obama is the Democratic nominee, come November McIntyre may just stay home "for the first time in 40 years" – even if that means four more years of GOP rule.
"That's just the way I feel, I guess," he says.
McIntyre represents a pivotal Southern constituency for Democrats: the white working class. As North Carolina Democrats prepare for Tuesday's primary, both candidates are aggressively courting them. As they do, the divisive facets of race and class are playing an increasing and evolving role in deciding the drawn-out Democratic contest.
Just a few months ago, Obama seemed to transcend both with his stunning 25-point lead in the polls in North Carolina. It encompassed a vast majority of the party's black voters and almost half of its white voters. But his loss to Clinton in Pennsylvania on April 22, his characterization of small-town America as "bitter," and the controversy surrounding his former pastor, the Rev. Jeremiah Wright Jr., have cut his lead in half in the Tar Heel State. Almost all of the lost support has been among white voters, according to polls.
---