Military culture, pragmatism shape McCain
John McCain's military experience and Senate record show a presidential candidate who values integrity and getting things done.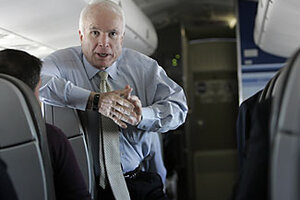 mary altaffer/ap
John McCain once called it the worst thing that ever happened to him – worse, even, than his 5-1/2 years in a Hanoi prison.
"It" is the so-called Keating Five scandal of 1989, in which Senator McCain of Arizona and four other senators were accused of corruption, nearly destroying his political career and reputation. For three years, as McCain fought to clear his name, he "alternated between anger and depression, the resilience his Vietnamese captors failed to beat out of him only fitfully evident," writes McCain biographer Robert Timberg.
But how could any experience on Capitol Hill have come close to the torture and extended isolation he was subjected to in North Vietnam?
"In this case, it was his integrity that was being not just challenged, but challenged in a way that people believed that he had … not acted with honor," Mr. Timberg says in an interview. "That's a very big deal with him."
McCain stood accused of inappropriately aiding a friend and contributor, savings and loan operator Charles Keating, by attending two meetings with federal regulators on his behalf. In the end, the Senate Ethics Committee found McCain's involvement to be minimal and issued a mild rebuke.
---