On U.S. coasts, a rethink on oil drilling?
High gas prices may soften the opposition of some states to offshore drilling.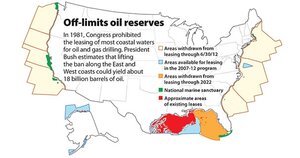 SOURCE: US Minerals Management Service/Rich Clabaugh–STAFF
Oakland, Calif.; and orlando, fla. - When Sen. John McCain visits Santa Barbara, Calif., next week, Charles Eckberg will be there to protest the Republican presidential candidate's calls to lift the federal ban on US offshore drilling.
Mr. Eckberg, a grass-roots activist, remembers the 1969 spill off the coast of Santa Barbara that galvanized the state and the nation to halt fresh drilling. The ocean was so laden with oil that the waves crashed ashore silently, he says.
Now, Eckberg is concerned that "people are going to say, 'Let's do this because of the gas prices.' "
Voter frustration with dependence on foreign oil and $4-a-gallon gas have primed political pumps for more domestic drilling. Despite the national support for drilling, the politically blue coasts hold a virtual veto in Congress. But experts say all the attention on the issue could push some of the more conservative coastal states to lift their own moratoriums.
"There's a good chance we'll see some of the moratoriums lifted in the next few years," says Eric Smith, an environmental politics professor at the University of California at Santa Barbara. "Because of [Bush and McCain's] leadership, offshore oil drilling has appeared as a major environmental issue, and we'll be debating it for a while."
---