As Afghanistan boils, McCain keeps focus on Iraq
For voters, a resurgent Taliban may challenge McCain's view that Iraq is the center of the war on terror.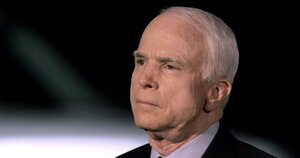 Carlos Osorio/AP
WASHINGTON - John McCain has called Iraq the "central front" of the war on terror, a crucible of America's ability to defeat violent Islamic extremists the world over.
But with record US casualties in Afghanistan in June, a resurgent Taliban, and new reports of Al Qaeda regrouping in northwest Pakistan, Senator McCain is likely to face new questions about his judgment on the one issue – national security – where voters consistently give him higher marks than they do his Democratic rival.
McCain has resisted calls for more troops in Afghanistan and has rejected criticism that the Iraq war is detracting from efforts to secure Afghanistan. He labeled Barack Obama "naive" for saying he'd strike terrorist targets in Pakistan with or without the cooperation of President Pervez Musharraf.
---