The minister who leads Democrats to faith
Leah Daughtry, CEO of her party's upcoming convention, emphasizes 'public holiness.'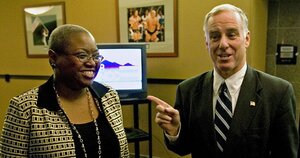 NEWSCOM/File
new york - For evidence that the Democratic Party has warmed to the idea that religion has a role in politics, look no further than Leah Daughtry.
The CEO of this summer's Democratic National Convention and chief of staff to party head Howard Dean is also the pastor of a Pentecostal church. Since 2005, she has led the party's outreach to religious groups as it seeks to reverse its image of being less than faith-friendly.
For Ms. Daughtry, faith and politics have been a natural mix since childhood, and she welcomes the chance to correct the idea that Democrats are hostile to religion. "For thousands of people of faith who have always been part of the party, that label became more than we could bear," she says in a phone interview. "Most of us are in the Democratic Party because we see the values of our faith mirrored in it."
The Republican Party has successfully assumed the religion mantle for three decades. With a large contingent of nonbelievers among the Democrats, and the party's strong support for the separation of church and state, Democratic candidates were often reticent to speak about faith. But after the 2004 election revealed that values were motivating factors for many voters, the party was ripe for change, says Tony Campolo, a prominent evangelical pastor, professor, and author, who is on the Democratic platform committee.
When Daughtry became Mr. Dean's No. 2 in early 2005, she recommended an active outreach to religious groups, called Faith in Action (FIA), and he concurred. "His first conference call as chairman was with some faith leaders," she says. The aim was to open lines of communication.
---