Senate approves aid package for troubled mortgageholders
But obstacles – including a Bush veto – could stymie the legislation.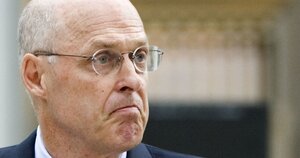 Joshua Roberts/Reuters
Washington - The most sweeping housing bill Congress is likely to consider this year passed the Senate Friday as house price woes persist in much of the United States and mortgage giants Fannie Mae and Freddie Mac stagger from foreclosure losses.
Despite the atmosphere of urgency, the housing legislation still faces an uncertain future. House leaders want some significant revisions – and the White House has threatened to veto the bill in its current form.
Washington "should have put up or shut up" on the housing measure by now, says Douglas Elmendorf, a senior fellow in economics at the Brookings Institution.
The housing bill easily passed the Senate 63 to 5 in a rare Friday afternoon vote.
The bill's centerpiece is a provision that would allow the Federal Housing Administration (FHA) to provide up to $300 billion in new, affordable fixed-rate loans intended to help struggling owners stay in their homes.
Lenders would have to agree to absorb a loss of 15 percent on individual mortgages covered by this program. In return, they would be guaranteed to receive at least some money, while avoiding a foreclosure – an action that by itself can cost as much as 40 percent of a home's value.
Borrowers would have to pay a small annual insurance premium. If they made a profit when they eventually sold their home, the FHA would get a slice of the money.
---