Obama and McCain diverge on Israeli-Palestinian conflict
Obama likely to return US to role of 'honest broker.' McCain sees fighting Islamic extremists as paramount.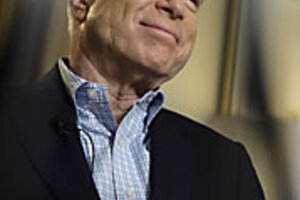 Carolyn Kaster/AP
When Barack Obama stops in Jerusalem and Ramallah this week – as part of an overseas trip designed to reassure the American electorate about the presumptive Democratic nominee's national security credentials – he'll be wading into the Palestinian-Israeli conflict.
Neither Senator Obama nor Republican nominee John McCain have spoken much about how they might resolve this key Middle Eastern issue. But what hints the candidates have given suggest that Obama will probably return the US to a more traditional role of "honest broker," analysts say. Senator McCain would be more likely to subordinate any peace talks to battling Islamic extremism, leaving Israel to chart its own path.
The two presidential candidates have more distinct and well-outlined positions on Iraq (where Obama is expected Monday) and Afghanistan (where he spent the weekend). The German weekly Der Spiegel reported Saturday that Iraq's President Nouri al-Maliki supported Obama's plan to withdraw most US troops from Iraq within 16 months, starting in January 2009. But an Iraqi government spokesmen Sunday said that Mr. Maliki had been "misunderstood and mistranslated" and his comments "should not be understood as support for any US presidential candidate."
---