Democrats unrelenting in oversight of Bush administration
With elections ahead, Congress is expected to keep spotlight on alleged misdeeds.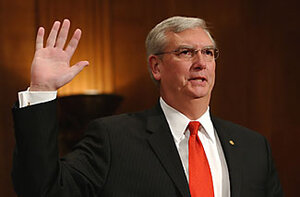 Dennis cook/AP
The Democratic-led Congress appears intent on using its oversight powers to investigate the Bush administration until the day the latter packs up and walks out of the White House.
Oversight hearings and reports have been as common as lobbyists on Capitol Hill since the Democrats swept the 2006 elections. In July alone, hearings covered a range of subjects including allegations of faulty wiring installed by US contractors in Iraq, possibly misleading testimony from Environment Protection Agency (EPA) Administrator Stephen Johnson, and charges that politics guided hiring of career workers in the Justice Department.
White House officials consider the scrutiny a burden and a waste of legislative time.
"When you have divided party government, you have more vigorous oversight," says James Thurber, director of the Center for Congressional and Presidential Studies at American University.
With Election Day only three months away there's little time left for the lame-duck Congress to push for substantive changes in response to the lame-duck Bush administration's alleged misdeeds.
---