Campaign '08 enters goofy stage
Paris Hilton for president! Just kidding, but the election's silly season may be eroding Obama's 'celebrity.'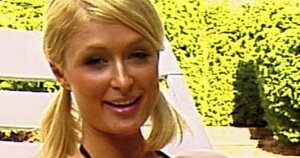 Courtesy of Funny or Die.com/Reuters
Washington - After a week of tire gauges, Britney Spears, and Paris Hilton, Barack Obama is no doubt ready for a week in his native Hawaii, where he heads Friday for a vacation with his family.
Apparently the public is also ready for a break: According to the Pew Research Center, 48 percent of Americans say they have been hearing too much lately about Senator Obama, the Democrats' presumptive presidential nominee. Only 26 percent say the same about his Republican opponent, John McCain. And in what Pew calls a "slight, but statistically significant margin – 22 percent to 16 percent – people say that recently they have a less rather than more favorable view of [Obama]."
In a close race, with Obama consistently ahead of Senator McCain by about four points, a slight shift either way can be crucial. So after what can easily be called one of the goofiest weeks ever in presidential campaign politics, the real question may be whether it has any lasting effect – especially as it played out during the summer doldrums.
---