When political lawn signs shout too loudly
The size of the political message has become an issue, pitting freedom of speech vs. local codes.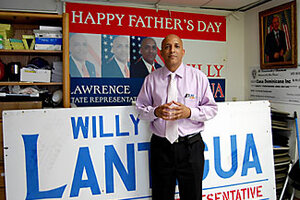 Uri Friedman
In this manufacturing hub 25 miles north of Boston, controversy is growing by the square foot.
That's because Lawrence bans political signs larger than six square feet. And in the last few weeks, the city has issued citations for some 30 campaign signs – each measuring 32 square feet – that supporters of state Rep. William Lantigua (D) placed on their private property. Representative Lantigua believes the ordinance violates freedom of speech, and has approached residents who received citations about challenging the law in court.
From Highlands, N.C., to Hawthorne, N.J., local ordinances governing political signs seem to be attracting legal scrutiny more frequently these days. At press time, Hawthorne's borough council was expected to vote on a settlement with the ACLU regarding the topic, according to ACLU-NJ deputy legal director Jeanne LoCicero. The agreement would require Hawthorne to repeal or amend a law restricting homeowners from displaying political signs more than 32 days before an election or seven days after.
In a twist on the Hawthorne case, the dispute in Lawrence revolves around dimensional rather than durational limits on political signage.
Lantigua has taken down a few signs.
Meanwhile, questions are being raised about the intersection between political and commercial advertising, the threat political expression poses to community well-being, and the role a sign's dimensions play in conveying political messages.
---