Denver's second coming-out party
Local officials will showcase at the Democratic convention a city transformed – just as they did a hundred years ago.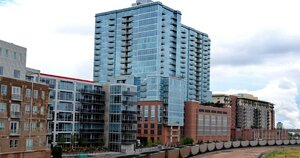 Ann Hermes
Denver – A look of concern grew across Gretchen Bunn's face as she thought about what might happen Monday when Democrats come to town for the second time in a century.
Will there be traffic jams, protesters, even riots, worried the saleswoman at Rockmount Ranch Wear, standing amid floral western shirts and cowboy boots.
It's anyone's guess what the four-day Democratic National Convention will mean for the city with 50,000-plus attendees and the glare of national and international media. But it's clear what city boosters want to project. Just as they landed their first Democratic convention in 1908 to prove that Denver had morphed from cow town to cosmopolitan city, they are eager to show off a city transformed once again.
This time, they are selling a "new West" city that has emerged from the boom-and-bust petroleum era into a center of environmentalism, embracing renewable energy with the same gusto as it once welcomed oil speculators.
"Denver has grown up," says John Hickenlooper, the city's mayor. "Back in the late 1970s and early 1980s, energy was really the only game in town."
Denver's new green sensibilities will be felt – whether they like it or not – by conventioneers. Mayor Hickenlooper has challenged organizers to make the Democratic National Convention (DNC) the "greenest convention in the history of the planet." That means a lot of organic foods, as many as 900 volunteers dedicated to making sure everyone recycles, 1,000 bicycles available to the delegates, and a push to offset the convention's carbon emissions with investments in alternative-energy and other green ventures.
---