New Christian group airs ads – for Obama
The group counters attacks on the Democrat while broadening issues important to Evangelicals and others.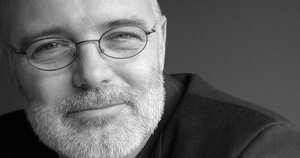 Blair Anderson/AP
His face fills the screen as the man looks earnestly into the camera and speaks directly to the viewer.
"As a pastor, I know you can learn a lot about a man's character by the way he treats his family," he says. It's prominent evangelical leader Brian McLaren, and so begins the new TV ad for Sen. Barack Obama, which ran last weekend during Pastor Rick Warren's presidential forum at Saddleback Church in California.
The ad on "standing up for families" doesn't come from the Obama campaign, but from an independent political action committee (PAC) that has recently joined the battle for the Christian vote.
The Matthew 25 Network, as it's called, is a group of Evangelical, Roman Catholic, Protestant, and Pentecostal Christians. Its purpose, organizers say, is to broaden the issues Christians pay attention to and also to counter falsehoods or smears targeting Senator Obama. The PAC is sponsoring radio and television advertisements aimed specifically at Christians, mostly on Christian radio in key swing states. There are ads in religious publications as well.
Organizers say the TV ad is the first by active clergy for a Democratic presidential candidate. It includes the Rev. Kirbyjon Caldwell, who's been close to President Bush and who recently officiated at Jenna Bush's wedding in Crawford, Texas.
---