Democrats' quest for the 'big idea'
The party is full of optimism but is still refining its vision.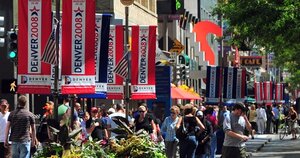 Bill Ross/AP
Washington – As the 2008 Democratic National Convention kicks off in Denver, the party is bursting with optimism and a sense of possibility.
Come the Nov. 4 election, Democrats are likely to build on their slim majorities in both houses of Congress, and their new standard-bearer, Sen. Barack Obama of Illinois, has a serious chance of retaking the White House for his party after eight years in the wilderness. On most issues, from the economy and the Iraq war to healthcare and education, a majority of voters say they favor Democratic positions over Republican.
But what is the "big idea" animating the party and fixing a 21st-century Democratic brand in the minds of voters? From Franklin D. Roosevelt's New Deal to the conservative Reagan revolution to Bill Clinton's New Democrat centrism, American presidents have sought to put an ideological stamp on their era and convey to voters boldness and vision.
So far, Senator Obama has risen from long-shot candidate to presumptive nominee on a message of hope and change, and while his campaign is awash in policy proposals, his program defies easy characterization. Still, Obama may well win the presidency simply by not being the Republican, as the GOP struggles against an image in shambles.
---