Bloggers at Democratic convention plant their stake
Five hundred strong, Netroots workers in the Big Tent near Denver's Pepsi Center gain camaraderie – and affirmation.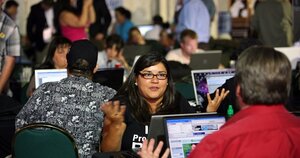 Melanie Stetson Freeman – Staff
Denver – The "Big Tent" for bloggers at 1536 Wynkoop St. in Denver marks a fault line between new and old media covering the Democratic National Convention.
"The traditional media do a lot of things wrong. We want them to do things correctly. We want them to do their job," says Markos Moulitsas, founder of the blog Daily Kos, which claims some 1.5 million unique hits a month.
The 8,000-square-foot "tent" is two stories of reinforced canvas packed with tables, chairs, plugs, screens, wiring, bad lighting, and a critical mass of overstuffed, worn-through comfy couches and pillows. Just beyond the white curtain, you can pick up a smoothie or a 10-minute massage at no charge, courtesy of Google, a Big Tent sponsor. Others sponsors include Digg, EcoDrivingUSA, InterfaceFLOR, Meru Networks, Floorz, Moveon.Org, DemWire, Daily Kos, Progress Now, Alliance for a Sustainable Future, Service Employees International Union, Human Rights Campaign, PickensPlan.com, the Sunlight Foundation, and Alliance for a Sustainable Colorado, to name a few. The restaurant chain Chipotle, another sponsor, is helping to provide 600 free lunches and dinners.
---