Romney's got McCain's back in Denver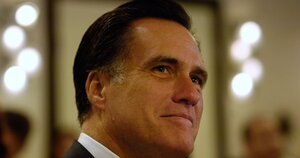 Andy Nelson/The Christian Science Monitor/File
Denver – Former Massachusetts Gov. Mitt Romney took the Republican fight to Denver this week, amid speculation that he may be tapped as the No. 2 on the GOP presidential ticket.
"Barack Obama is a fine person, but I don't think he is ready to be president," he said of the Democrats' presumed nominee at a lunch for reporters sponsored by The Christian Science Monitor.
"I don't think he has the judgment which is developed through years of experience in life that prepares him for assuming the title of president of the United States and commanding the most powerful military and guiding the most powerful economy."
Moreover, Senator Obama and Sen. John McCain, the likely Republican presidential nominee, offer sharply different views of how the economy works – and how the world works, Mr. Romney said.
---
Follow Stories Like This
Get the Monitor stories you care about delivered to your inbox.