Women lawmakers, at convention, hammer pay equity issue
Citing hardship to women during the economic slump, they argue for legislation to strengthen protections against wage bias.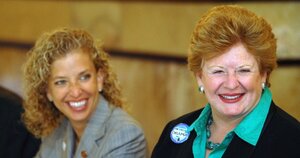 Mary Knox Merrill/Staff
Denver – As Democrats take up the economy on Day 2 of their national convention, key women legislators are gearing up to pass landmark legislation to crack down on wage discrimination.
"While everyone is feeling a faltering economy, women feel it with greater force and poignancy in every aspect of life," said Rep. Rosa DeLauro (D) of Connecticut at a Monitor-sponsored breakfast for reporters in Denver on Tuesday. "It's why almost 60 percent of women say they are concerned about achieving their economic and financial goals over the next five years – 15 [percentage] points higher than for men."
Recent economic studies signal stark differences in economic prospects for men and women. Here are some examples:
•Incomes for female heads of household are down 3 percent between 2000 and 2006.
•Half of women are in jobs without retirement plans.
•Risk of poverty increases with age for women. Retired women are more likely to be poor than elderly men.
•Women are one-third more likely than men to hold subprime mortgages.
•A third of women are in poverty, and women are losing jobs at a faster rate than men.
Just before breaking for August recess, the US House of Representatives passed the Paycheck Fairness Act, which aims to provide more effective remedies to victims of wage discrimination on the basis of gender. Now the bill moves to the Senate, where Republicans are threatening to block it, setting up a partisan firefight just before a national election.
---