Palin (and news of pregnant daughter) steals GOP convention spotlight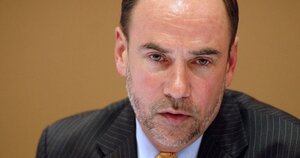 Mary Knox Merrill/Staff
St. Paul, Minn. – Douglas Holtz-Eakin is a serious person. He's John McCain's top economic adviser, and before that he was chief economist of the President's Council of Economic Advisers and director of the Congressional Budget Office, among other things. He's taught economics at Columbia and Princeton.
So what was the first question reporters asked Mr. Holtz-Eakin at a Sept. 1 Monitor lunch here?
OK, to be fair, it was the second question. But it wasn't about tax cuts or budget earmarks or the future of Social Security. It was, of course, about Gov. Sarah Palin, the overwhelming top nonhurricane topic of the convention.
Specifically, what did Holtz-Eakin have to say about the revelations that Governor Palin's 17-year old daughter, Bristol, is five months pregnant and plans to keep the baby and marry the father?
"Senator McCain has complete confidence in [Palin] as a running mate," said Holtz-Eakin. "It's a matter of speculation what the impact will be in the public eye."
Whatever this line of questioning says about the press, it reflects a reality instantly apparent to all the delegates and media gathered here: Sarah Palin is it. She is topic one. Every aspect of her life up there where it's cold all the time and people ride float planes is newsworthy and fascinating.
---