Alaska's crowded campaign trail
Palin isn't the only one running for federal office. All the activity muddies the line of succession.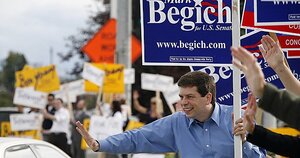 Al Grillo/AP/File
Who's minding the store?
That's the question many Alaskans are asking now that Gov. Sarah Palin is busy running for federal office alongside presidential aspirant John McCain.
Here, it's no small concern, with plenty of state business in need of attention: Alaska has just authorized a license with Calgary-based TransCanada Corp. for a massive natural-gas pipeline; rural residents are trying to brace for winter as heating-fuel costs skyrocket; state officials are struggling not to squander a treasury overflowing with riches created by high oil prices; and global warming impacts are so dramatic that several polar bears have been spotted in vast stretches of ice-free ocean, dozens of miles from any solid footing.
"We in Alaska, we're reeling," says Beth Kerttula, Democratic leader of the state House of Representatives.
Even Governor Palin's top aides were blindsided by her selection on Friday. At a news conference later that day, press secretary Bill McAllister and others spoke of learning about it from phone calls and e-mails arriving early in the Alaska morning from inquisitive East Coast reporters.
---