Palin daughter's pregnancy stirs GOP convention
But delegates say pregnancy humanizes the nominee for vice president.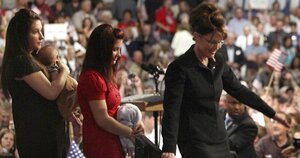 Mary Altaffer/AP
If there's one thing everyone can agree on about Sarah Palin, John McCain's choice of running mate, it's that she is one busy woman.
She is governor of Alaska, now running for vice president, and is raising five children, including a special-needs baby. On the first day of the convention, Ms. Palin and her husband disclosed that their 17-year-old daughter is five months pregnant, and will have the baby, and marry the father.
In the past, the typical view of social conservatives would have been that Palin should be at home with her family. But social scientists have found that this attitude has shifted in the last 15 years or so, says Jim Guth, an expert on the politics of Christian conservatives at Furman University in Greenville, S.C.
"Among religious conservatives, there may be some kind of notion that a mother's place is in the home, but that's pretty well disappeared [from] reality," Professor Guth says. "Most Christian conservatives are in the workforce. They understand that they have to be in the workforce and others like them have to be in the workforce. It's a modern reality."
Guth notes that the view of acceptable roles for fathers has also expanded and that in the Palins' case, as her political career has soared, her husband has taken on more of the family duties.
---