Can McCain rally the GOP?
In his speech Thursday he must knit the party together – and reach out to independents.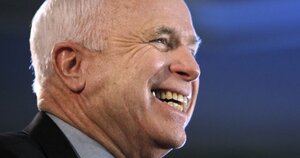 Charles Dharapak/AP/FILE
When John McCain takes the stage here Thursday to accept his party's presidential nomination, he will have to be as much political acrobat as statesman.
The Republican National Convention was supposed to be an uncomplicated week of rousing speeches and raucous parties. Instead, it has been blown off course by two storms – one real, the other the revelation that the unwed teenage daughter of Senator McCain's conservative running mate is pregnant.
Republicans, more than Democrats, needed a full four days of nationally televised razzmatazz to excite voters in a tough year for the GOP. Instead, their convention has been a tangle of rewritten speeches and muted celebrations that has competed with hurricane Gustav for airtime.
The latest Gallup poll shows the Democratic presidential nominee, Sen. Barack Obama, with his widest lead ever over McCain. McCain's job at the Xcel Energy Center Thursday night will be nothing less than to take control, say political analysts.
---