With rousing convention speech, Palin becomes a force in McCain candidacy
Lukewarm before, conservatives are now ready to work for the GOP ticket, delegates say.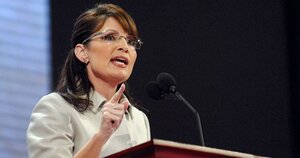 Mary Knox Merrill/Staff
They didn't call her "Sarah Barracuda" in high school for nothing.
Normally, vice-presidential nominees don't end up swinging the outcome of a presidential race, political scientists like to say. It's the top of the ticket that nearly all voters base their decisions on. But this is a year in which a running mate – Alaska Gov. Sarah Palin, the No. 2 to GOP nominee John McCain – could make a difference.
She has burst onto the national stage with such force, casting Senator McCain in a whole new light, that most engaged voters can't help but have an opinion.
The question is, does Governor Palin help or hurt McCain's chances? After her big speech Wednesday night at the Republican convention here, in which she delivered sharp rhetoric against the Democratic ticket and her critics and extolled her own virtues as a small-town, small-state executive and hockey mom, there was no doubt party regulars were enthralled.
"I pity Biden," says Coy Morton, an alternate delegate from Charlotte, Mich., speaking of the Democratic vice-presidential nominee, Joseph Biden. "She's going to tear him up."
Mr. Morton, a retired crane operator, was worried that his party had been inching to the left – and that even if conservatives would still vote for McCain, they would not volunteer for him. But no more.
---