How the 2008 electoral map has changed
Virginia could be a bellwether in a year that is likely to see a few more battleground states.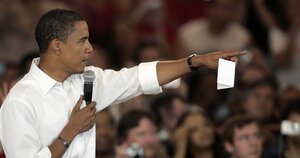 Michael Conroy/AP
Flush with cash, Democrat Barack Obama has spent months trying to expand the battleground in the 2008 presidential elections. Ad buys in normally Republican states like Montana, North Dakota, and Alaska signaled a bold effort to turn the usual 10-or 11-state map of swing states into a 20-state contest.
Now, following a whirlwind two weeks of back-to-back conventions and a stunning vice presidential pick by Republican John McCain, both nominees have consolidated their bases of support. And the likelihood is that, with a few exceptions, the 2008 battleground will look similar to 2004.
"We're probably talking about a race that is very much about the Great Lakes and Mountain West regions," says Evan Tracey, a political media specialist and founder of Campaign Media Analysis Group in Arlington, Va.
---