Election wild card: first-time voters
Obama and McCain have traded leads in the polls. But whose supporters will turn out in November?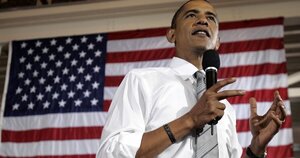 Rebecca Cook/Reuters
One week, Barack Obama is up by five or six percentage points. But the next, John McCain leads by three. It's back and forth, up and down.
So how do we know who's ahead?
More than in any other presidential election in recent times, polls may be failing to capture accurately what's happening in the American electorate. There are a couple of reasons, but the most key for the pollsters are massive voter-registration drives, especially by the Democrats, which have created millions of first-time voters. Pollsters aren't quite sure yet how to calculate the impact of all these new voters on the election.
"The polls could be inaccurate because it's hard to know how to weight first-time voters. That's a major problem for pollsters, and there's a lot of volatility in the electorate now," says Darrell West, director of governance studies at the Brookings Institution in Washington. "Most of the traditional polling methods are based on likely voters, and the likelihood of voting is measured through participation in past elections. Generally, that's not a big problem because there aren't that many new voters, but this year, we've had a big spike in interest by first-time voters."
That became especially apparent during the primary season, when voter turnout increased more than 120 percent, and few if any of pollsters predicted it.
---