McCain, Obama pledge to boost US volunteerism
Obama would expand federal service efforts; McCain would rely more on private sector.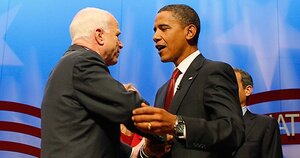 Stephan Savoia/AP
Barack Obama wants to make government "cool again" to encourage young people to serve and leverage volunteerism in communities across the country. John McCain wants to "inspire" people to serve a cause "greater than their own self interest" and encourage businesses to support employees who do public service.
In a rare congenial evening during this increasingly acrimonious campaign, the two presidential candidates agreed that the American heritage of volunteerism and selfless service is part of what makes this country "exceptional."
Both also pledged to make the encouragement of national service one of their top priorities if elected and to expand AmeriCorps, the federal government's community-service program.
Each even went so far as to pledge to appoint the other to a "cabinet level" position to oversee national service, although Senator McCain then hedged about creating yet another cabinet level position.
This unusual show of unity came Thursday evening, the seventh anniversary of the 9/11 terrorist attacks at a summit at Columbia University in New York. It was sponsored by ServiceNation, a coalition of groups dedicated to restoring what it calls the nation's "great tradition of citizen service." The movement was inspired by the families of the 9/11 victims. They are determined that the day be remembered not just for the loss of lives and tragedy when the Twin Towers came down, but also for the extraordinary outpouring of humanity that followed.
---