Palin sketches out her foreign-policy views
The GOP vice-presidential candidate talked about Israel, Pakistan, and preemptive strikes in an ABC interview.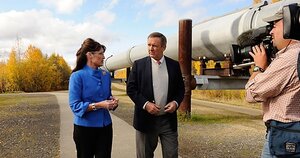 Donna Svennik/ABC/AP
The Bush doctrine? That's old news. Let's talk about the emerging Palin doctrine.
Republican vice-presidential nominee Sarah Palin appeared to be caught off guard when ABC News anchor Charles Gibson asked her whether she agreed with the Bush doctrine during a portion of a sit-down interview broadcast Sept. 11.
It's possible that she didn't know at first what the Bush doctrine is. (Preemptive war is OK if it strikes at an imminent threat.) It's possible she simply was surprised to hear the word "Bush," given how seldom it was uttered at the GOP convention in St. Paul, Minn.
That said, the answer she eventually gave was one pretty much any administration, Republican or Democratic, would probably agree with. "If there is legitimate and enough intelligence that tells us that a strike is imminent on the American people, we have every right to defend this country," she told Mr. Gibson.
Fair enough. That part about "legitimate and enough intelligence," though – that's where the debate begins.
But enough about President Bush's policies. He's going to be retired in a few months anyway, so the stuff Governor Palin said about her own views arguably is far more important than what she knows about Bush policies.
And so far, this can be said about the emerging Palin doctrine: It appears to be mainstream GOP, on the assertive side, and a little vague.
---