Media truth squads and the '08 campaign: Any impact?
Reporters aim to check facts behind candidates' claims, but effect on voters is unclear.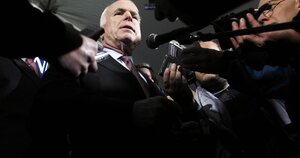 Joshua Lott/Reuters
"A lie can run around the world before the truth can get its boots on," it is said in a quote commonly attributed to Scottish inventor James Watt.
This aphorism may never have felt more true than in the 2008 presidential campaign. And more than ever, independent organizations and media outlets – from the Annenberg Public Policy Center's Factcheck.org to Politifact, a project by the St. Petersburg Times, to other truth-squadding efforts in the mainstream media – have tried to referee the claims and assertions of the candidates and their campaigns.
Alaska Gov. Sarah Palin, the GOP vice-presidential nominee, has stated repeatedly that she rejected the so-called "bridge to nowhere" as congressional pork, when in fact she welcomed it until it became politically radioactive in Washington. She continued to repeat her "thanks, but no thanks" line long after a wave of media stories punctured her claim.
---