Congress wrestles with Wall Street bailout package
Is there a deal or not? It depends on who's asked, but an outline is emerging from Thursday's meeting at the White House.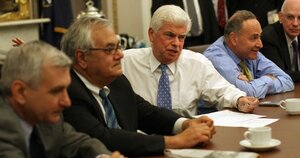 Lauren Victoria Burke/AP
The on-again, off-again agreement on a national financial rescue plan reveals the thorny political problem now facing Congress: How do you bail out deeply unpopular Wall Street firms without incurring the wrath of voters six weeks before an election?
It's likely to be an equally difficult vote for many members of Congress, who have been deluged with protests from voters over the prospect of a taxpayer-funded rescue package.
"I don't believe we have an agreement," said Sen. Richard Shelby (R) of Alabama, the top Republican on the Senate Banking panel, after Thursday's White House meeting.
But just hours before that meeting to break a deadlock over a historic bailout of US financial markets, congressional negotiators announced that there was no deadlock.
"We've reached a fundamental agreement on a set of principles," said Sen. Christopher Dodd (D) of Connecticut, who chairs the Senate Banking, Housing and Urban Affairs Committee, flanked by other senior members of House and Senate banking panels.
"I now expect we will indeed have a package that can pass the House, pass the Senate, and be signed by the president," added Sen. Robert Bennett (R) of Utah.
---