Doubts about Palin grow, even among conservatives
Some rough TV interviews have prompted some to ask if McCain's running mate is ready.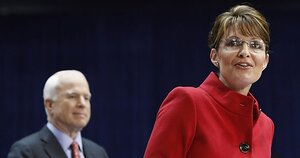 Gerald Herbert/AP
In just a month, Sarah Palin has gone from being the darling of the GOP to a major question mark hanging over John McCain's candidacy at a critical moment in the presidential campaign.
The appealing, reform-minded governor of Alaska, whose surprise selection as Senator McCain's running mate electrified Republicans at their convention last month, now faces questions from prominent conservatives over whether she's up to being a potential president – especially at a time of international financial turmoil. All eyes will be on her Thursday night when she debates Democratic vice presidential nominee Joseph Biden, a veteran senator from Delaware.
After some rough TV interviews and dead-on parodies of Palin on "Saturday Night Live" that have reinforced the questions, she risks becoming 2008's Dan Quayle – the young Indiana senator plucked from obscurity for the GOP's 1988 ticket, who never overcame early stumbles and a light-weight image. Mr. Quayle did not prevent the top of the ticket, George H. W. Bush, from becoming president. But the times are different: The bad economy, unpopular wars, and an unpopular president all slant the playing field toward the Democrats this year.
---