Unusually high stakes in vice presidential debate
On Thursday, Sarah Palin has a chance to restore her image, while Joe Biden must avoid being long-winded or aggressive.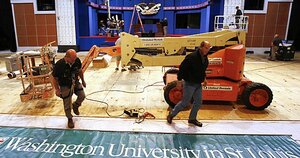 Rick Wilking/Reuters
Normally, vice presidential debates don't matter much. Not so this year, when the two candidates take the stage in St. Louis Thursday night.
Alaska Gov. Sarah Palin, whose winning persona boosted the lackluster campaign of John McCain at last month's GOP convention, is on the ropes after a series of subpar interviews left her looking ill-informed – and some conservatives in open revolt against her. After some stumbles by Senator McCain when Wall Street fell into crisis, the Republican ticket has been losing ground and now trails in most polls.
The future of McCain's campaign does not rest on her shoulders – it's still up to McCain himself to get his team back on track – but if Governor Palin commits any gaffes or looks out of her depth Thursday, McCain's task becomes that much harder.
"This [debate] can bury any bad memories or create a whole bunch of them," says Republican pollster David Winston. "It will be very much a high-wire moment for her."
Sen. Joseph Biden (D) of Delaware, Barack Obama's running mate, faces challenges of his own. He is famously long-winded and gaffe-prone. So far, he has not uttered anything unduly damaging, but with the whole world watching, Thursday will be a big test.
---