Obama trumps McCain in people power, but to what gain?
His Nevada field organization outmans his rival's. McCain, though, is making use of the GOP's high-tech, well-tuned machine.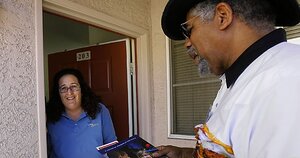 Barack Obama's manpower advantage over John McCain in Nevada is flaunted at rallies, where volunteers are spread abundantly like bellhops at the Bellagio.
Senator Obama has 15 offices across the state; Senator McCain has 12 – counting Republican Party quarters. The Democratic camp says it has roughly 33 field organizers and 100 people on the campaign payroll; McCain's side reports nine such operatives and an undisclosed total staff. Obama's camp claims 4,000 trained volunteers in the Silver State; McCain's people, "hundreds."
It's the same story in other battleground states: Obama's much-touted grass-roots organization, credited for his success in the primary season, is on the march – knocking on doors, registering new voters, cramming rallies with live bodies. But so what? Does raw people power really match up against a Republican machine, finely honed during the 2000 and 2004 elections, that relies on data and technology and marketing savvy to root out likely McCain voters?
The answer won't be known for 32 days. In the meantime, political oddsmakers are watching the two contrasting strategies play out in places like this sage-turned-stage state. For now, some suggest that old-school door-knocking could translate into a boost for Obama that's not showing up in the polling.
Better mobilization "could be a two-point difference [in the vote], and it's probably a couple of points that would not be picked up in the polls," says Donald Green, Yale University professor and author of "Get Out the Vote!" "The people who are between voting and not voting would not pass the 'likely voting' screen and would not appear in a poll sampling."
Obama edges ahead in Nevada polls
---