Congress's financial rescue plan is first step
Democrats will use credit-crisis hearings this month as a springboard for more regulation next year.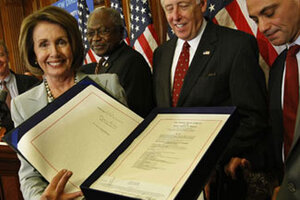 Pablo Martinez Monsivais/AP
It's just the beginning.
That's the message – from both sides of the aisle – after the House approved a historic $700 billion financial-rescue package.
While the initiative now shifts to the Treasury Department, armed with vast new powers to relieve stricken financial markets, Congress is launching its own, parallel oversight operation to ensure transparency and accountability in how these powers are used. It also has to meet vast new expectations on government's capacity to restore markets – and the lives of constituents – battered by the crisis.
Beginning next week, Congress is also starting a series of hearings and investigations – just weeks before national elections – to identify who is to blame for the worst financial crisis since the Great Depression. Democratic lawmakers want to use them as a springboard for rapid legislation next session to reregulate financial markets.
"Those who most opposed government intervention in the economy for much of the past two decades were so successful in keeping the government away from regulating activities that should have been regulated, that the consequence is now a greater degree of intervention by the government in the economy," said Democratic Rep. Barney Frank, chairman of the House Financial Services Committee, after Friday's vote.
For now, the focus is on the Bush administration, which has three months to show that the powers it said were essential can make a difference.
The new law gives the Treasury secretary other options, such as relying on insurance or loans to relieve the crisis. But over two weeks of congressional testimony and negotiations, Secretary Henry Paulson made the case that the key element in the plan is the power to buy up "troubled assets."
---