McCain and Obama campaigns go negative in home stretch
With a month to Election Day, the presidential candidates go after unsavory connections in each other's past.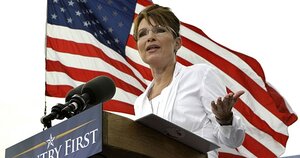 CHRIS O'MEARA/AP
Now it's getting ugly.
As the campaign heads into the home stretch with Democrat Barack Obama pulling ahead into a solid lead, the candidates are going after each other's character with attacks over unsavory figures in each man's past.
Republican John McCain is attacking Senator Obama on his connection to former anti-Vietnam War radical William Ayers and convicted influence-peddler Antoin "Tony" Rezko. But Obama isn't responding by just explaining (again) his relationship with both men – which he has long played down. He is going after the GOP nominee on an episode that Senator McCain has called worse than his 5-1/2 years in a Hanoi prison: the Keating Five banking scandal.
Out of this food fight, one point is clear. Politics as usual, which both candidates once swore off, is back.
In the short run, McCain might gain from the tactic. He has shifted the issue terrain from the toxic economy – unquestionably bad for McCain, whose party controls the White House and who has seen his presidential hopes slip badly in the last three weeks – to one of character.
The question is, how long can McCain play this card? And can he really keep the economy from killing his electoral chances? On Monday morning, as the credit crisis rippled globally, the Dow Jones Industrial Average sank below 10000 for the first time since 2004.
---