Gains for Obama among people of faith
He wins backing of 6 in 10 people who attend religious services once or twice a month, a gain for Democrats since 2004, new survey finds.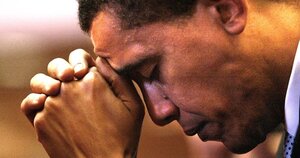 Nam Y. Huh/AP/File
The Democratic Party's outreach to young people and to people of faith seems to be paying off.
A new survey on faith and American politics shows Democratic nominee Barack Obama making inroads among some believers and moving ahead of Republican John McCain among Roman Catholics, largely because of young Catholics' support.
In the biggest shift over the past four years, Senator Obama now wins the backing of 60 percent of voters who attend religious services once or twice a month, a jump from the 49 percent the Democratic nominee won in 2004.
Senator McCain holds the advantage only among the highly religious who attend once or more a week. Moreover, more Americans say Obama is more friendly to religion than is McCain (49 to 46 percent), an image booster for a party long seen as not particularly faith-friendly.
The survey titled "The Young and the Faithful" was released Wednesday by Faith in Public Life and was conducted by Public Religion Research (PRR). It involved interviews with a representative sample of 2,000 Americans and an oversample of 1,250 young people ages 18 to 34.
As the first close look at the political views of young people during the 2008 campaign, the survey confirms their focus on a broader agenda and reveals a generation gap on several issues.
"Younger Americans, including young Americans of faith, are not the culture-war generation," says Robert Jones, president of PRR. "There is a kind of cosmopolitan worldview."
For instance, young adults are more open to religious diversity and cooperation, they are less likely to say that one has to believe in God to be moral, and they believe good diplomacy rather than military strength is the best way to promote peace, says Dr. Jones.
The generation gap is striking in several areas. Young voters are much more inclined to support a larger government that provides more services (57 percent versus 45 percent of the overall population). That's true within every faith tradition, but young Catholics stand out as the most pro-government constituency of all (67 percent favor more government services).
---