Obama struggles to attract wavering Jewish voters
False rumors have tempered enthusiasm from this slice of the Democratic base.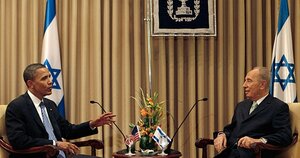 Baz Ratner/Reuters
Few groups in America vote more heavily Democratic than the Jewish community. But Sen. Barack Obama and his backers are scrambling to hold on to that traditionally lopsided support – particularly in swing states such as Florida, Nevada, and Ohio, where the 2008 race remains a tossup and every vote counts.
While Republican nominee John McCain's strong pro-Israel and antiterrorism stances are widely known, many Jews feel uneasy about his opponent. A campaign of rumors about Senator Obama has helped spur doubts.
In a national survey released Sept. 25 by the nonpartisan American Jewish Committee (AJC), the Democratic nominee had the support of 57 percent of Jewish adults, 12 percent less than Sen. John Kerry at the same time in the 2004 campaign. Senator McCain had 30 percent, with 13 percent still undecided.
"What is striking is the number of people who say they are undecided," says Kenneth Wald, professor of political science at the University of Florida in Gainesville. "That suggests a real softness in the level of support for Obama among some Jews."
---