Abortion rises again as election issue
South Dakota, Colorado, and California weigh measures.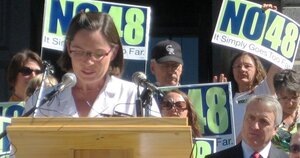 Kristen Wyatt/AP
Abortion is on the ballot in several states this fall, in measures that could have profound implications for the national debate on the issue.
In South Dakota, voters will weigh in – for the second time in two years – on a ballot measure that would ban nearly all abortions in the state.
Advocates are optimistic that this time, with added exceptions for rape, incest, and the health of the mother, voters will approve it.
In Colorado, a proposed amendment that could have sweeping implications for abortion, fertility clinics, and stem-cell research would officially define any fertilized egg as a "person" under the state constitution.
And in California, voters are seeing the third effort in four years to enact a law requiring parental notification before a minor can have an abortion.
While it's not unusual for abortion-related issues to be on state ballots, the South Dakota and Colorado measures, in particular, are far-reaching and could ultimately form the basis of a challenge to Roe v. Wade, if either passes.
Those two measures have also been unusually divisive among the antiabortion community, and they offer a window into the direction that the abortion conversation is headed in the United States.
---