Obama strong in long-red Colorado
Demographic shifts may help turn the state blue.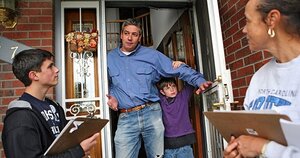 Melanie Stetson Freeman/Staff
Jamie Guetz has always voted Republican – until now."I guess we're Obama supporters," says Ms. Guetz, with a wry smile, as she heads into a Gap store in Littleton, Colo., with her daughter.
Women's rights and the war in Iraq have pushed her in a different direction. The woeful economy, she says, "is just icing on the cake." Guetz's parents, lifelong Republicans as well, will also be voting for Democrat Barack Obama.
Voters like Guetz are one reason Colorado, long a safe bet for Republican candidates, is moving into the Obama column.
Although the last Democratic presidential candidate to win more than 50 percent of the vote here was Lyndon Johnson, the state has been trending more liberal for years – a result of in-migration, demographic changes, and a rising sense among some moderate Republicans that the state and national party have moved too far to the right.
The latest polls give Obama a lead of six percentage points over John McCain.
---