After conviction, Sen. Stevens faces his biggest political fight
The Alaska Republican faces an uphill battle to win a seventh full term.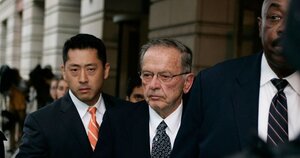 Hyungwon Kang/Reuters
Never one to back down from a brawl, Sen. Ted Stevens is now in the biggest fight of his long political life.
Convicted Monday of concealing gifts from politically connected associates, the Alaska Republican has one week to save his campaign for reelection in a race in which he had caught up with his Democratic opponent in the polls.
If he wins, he still must face his Senate colleagues, who have the power to expel him. If he loses, it would sweep in a new generation of political leaders in Alaska. Nationally, Senator Stevens's felony conviction already constitutes a blow to the Republican Party, already reeling in the polls because of an unpopular president, an increasingly severe economic slump, two wars, and a slew of corruption scandals that have forced a handful of GOP senators and congressmen to resign or retire in the past three years.
The combative Stevens vowed to press on with his campaign to win reelection and clear his name.
"I will fight this unjust verdict with every ounce of energy I have," he said in a prepared statement after a federal jury in Washington convicted him on all seven counts he was charged with, which could mean a prison term of up to 35 years. "I am innocent. This verdict is the result of the unconscionable manner in which the Justice Department lawyers conducted this trial. I ask that Alaskans and my Senate colleagues stand with me as I pursue my rights. I remain a candidate for the United States Senate."
---
Follow Stories Like This
Get the Monitor stories you care about delivered to your inbox.