Can antiabortion Catholics support Obama? Some do.
Several conservative bishops counter that candidates' stands on abortion should be the litmus test.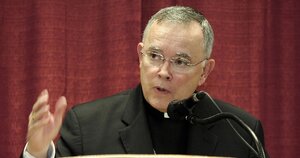 Will powers/AP/File
Roman Catholics – a sought-after swing vote in several battleground states – are caught up in a charged debate over how to apply the church's moral teaching to politics.
Like other Americans, Catholics rate the economy as the top issue for this election. But the political debate has once again pushed the contentious issue of abortion to the fore, potentially affecting how some "undecideds" vote. It has also stirred concerns that partisanship on the part of a few church leaders could damage the role of faith in public life.
Four years ago, conservatives helped deliver the Catholic vote to George Bush over fellow-Catholic John Kerry, insisting that an antiabortion stance was a litmus test for the candidates.
Viewing that effort as divisive and narrow, other Catholics have since worked to broaden the political agenda to more fully reflect the church's social teaching and its emphasis on promoting the common good. They've created new organizations, such as Catholics United and Catholics in Alliance for the Common Good, and reached out to ordinary Catholics of every stripe, urging them to consider candidates' positions on a wide range of societal issues.
"These new groups are moderate voices who are presenting the whole array of Catholic social teaching, and they are having an impact," says the Rev. Thomas Reese, senior fellow at Woodstock Theological Center at Georgetown University in Washington.
---