Who advises candidates on economic crisis?
Both pick mainstream experts, but Obama's are more interventionist.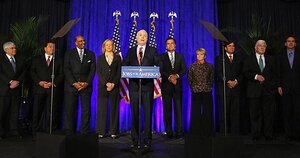 Brian Snyder/Reuters
Barack Obama can boast that he has an eminent former Federal Reserve chairman on speed-dial, no less than the man credited with dousing the flames of 1970s stagflation.
John McCain can point to a worldly-wise finance expert – one whose name is synonymous with an interest-rate formula that helps guide central bankers – at his side.
They are among the key advisers poised to serve as guiding lights to whichever candidate wins the election next Tuesday.
Economic advisers are perennially important to presidential policymaking, but rarely more so than now. Neither candidate has a background in economic policymaking, and the worst US financial crisis since the 1930s has evolved into a global storm.
On Thursday, the challenge was confirmed in a government report that America's gross domestic product shrank in the third quarter at a 0.3 percent annual rate. More ominously, consumer spending took an unusually sharp dive, even for a recession.
When it comes to building a postcrisis foundation for jobs and growth, any new president will be expected to preside over a significant bolstering and rethinking of financial regulation.
But economists say that Senator McCain and his core economic aides would tilt toward fewer government prescriptions and less government spending.
Senator Obama and his team, by contrast, argue that America's free-market economy will thrive best with a more visible government hand and with more policies aimed at people with modest incomes – what Obama calls a "bottom up" approach to growth.
---