Obama's new political era
Democratic control of Washington brings unity but also new demands.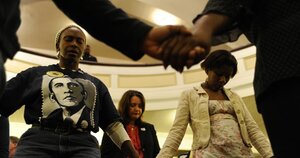 Mary Knox Merrill/Staff
Barack Obama's historic election as America's first black president has ushered in a new political era at a time of tremendous challenge, both at home and abroad.
President-elect Obama, a Democrat, will have expanded Democratic majorities in both houses of Congress, affording him the opportunity to address the nation's problems without the level of partisan gridlock that has hobbled his predecessors. Still, Republicans will remain a factor in Congress, especially in the Senate, where Democrats did not pick up enough seats to reach a filibuster-proof majority. The larger Democratic majority also means a more diverse caucus, whose wishes must be taken into account.
Hopes for the Obama administration are exceedingly high, from many corners of society.
"Expectations are tremendous: from whites, that we are entering a postracial America; from blacks, that he'll be able to solve all the problems," says Ron Walters, director of the African-American Leadership Center at the University of Maryland.
"He needs to put a lot of that in context."
Indeed, Obama's victory speech Tuesday night from Chicago's Grant Park alluded to the pressing issues he has already been grappling with, in anticipation of possible victory. Foremost among them are the economic crisis and two foreign wars.
---